Products tagged with 'Legal/Insurance'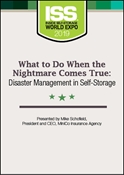 Disaster can come in many forms in the self-storage industry. Learn common risk-management strategies including disaster planning, insurance coverage and staff training.

Learn 13 commonly used industry terms you should avoid using as part of your self-storage operation. Steering clear of these terms could help you avoid misunderstandings with customers and even litigation.